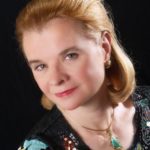 LYDIA ARTYMIW
SESSION: "Special Delights in Mozart…" For example, Mozart's genius and creativity in dealing with problems or restrictions caused by the limitations of his keyboard. How did Mozart transform a problem into a miraculous musical solution? Examples will be chosen from some of Mozart's Piano Sonatas as well as his piano concerti.
In 2016-17, pianist LYDIA ARTYMIW celebrates her 28th year as Distinguished McKnight Professor of Piano at the University of Minnesota. Artymiw also received the U of M's 2015 "Excellence in Graduate Teaching Award," the "Dean's Medal for Outstanding Professor" in 2000, and Thursday Musical of Minnesota's "2016 Teacher of the Year" award.
In 2015, Artymiw was on the jury for the first Van Cliburn Junior International Piano Competition in Fort Worth, TX, as well as on the juries for ten piano concerto competitions at the Juilliard and Manhattan Schools in New York. She was a guest piano teacher at Juilliard in October 2015 and presented her first master class at Juilliard in March 2016. In November 2016 Artymiw will present her first master class at the Curtis Institute of Music in Philadelphia.
The recipient of an Avery Fisher Career Grant and the Andrew Wolf Chamber Music Prize, Philadelphia-born Lydia Artymiw has performed with over one hundred twenty orchestras world-wide including the Boston Symphony, Cleveland Orchestra, New York Philharmonic, Philadelphia Orchestra, Minnesota Orchestra, San Francisco Symphony, Pittsburgh Symphony, Detroit Symphony, LA Philharmonic, Cincinnati Symphony, St. Luke's Chamber Orchestra, and the St. Paul Chamber Orchestra.
Solo recital tours have taken her to all major American cities and to important European music centers, and throughout the Far East. She has performed in England, Scotland, Ireland, Germany, France, Italy, Switzerland, Belgium, Ukraine, Estonia, Finland, and Poland, as well as in China, Singapore, New Zealand, Taiwan, Hong Kong, and South Korea.
Critics have acclaimed her seven solo recordings for the Chandos label, and she has also recorded for Bridge, Centaur, and Naxos. Her debut Chandos "Variation" CD won Gramophone Magazine's "Best of the Year" award, and her Tchaikovsky Seasons CD sold over 25,000 copies. Her festival appearances include Aspen, Bantry (Ireland), Bay Chamber, Bravo! Vail Valley, Caramoor, Chamber Music Northwest, Foulger, SaltBay, Chautauqua, Grand Canyon, Hollywood Bowl, Marlboro, Montreal, Mostly Mozart, Seattle, and Tucson.
An acclaimed chamber musician, Artymiw has collaborated with such celebrated artists as Yo-Yo Ma, Richard Stoltzman, Arnold Steinhardt, Michael Tree, Kim Kashkashian, John Aler, Benita Valente, and the Guarneri, Tokyo, American, Alexander, Borromeo, Daedalus, Miami, Orion, and Shanghai Quartets, and has toured nationally with Music from Marlboro groups. A recipient of top prizes in the 1976 Leventritt and the 1978 Leeds International Competitions, she graduated from Philadelphia's University of the Arts and studied with distinguished concert pianist and former Director of the Curtis Institute of Music, Gary Graffman, for twelve years. For more information, please visit Artymiw's website at lydiaartymiw.com.